Be angry but get active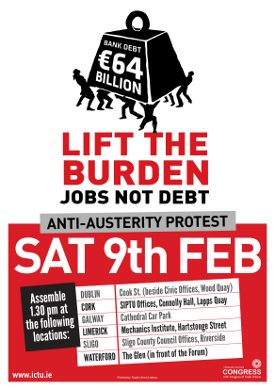 The Trade Union Left Forum calls on all workers to join the Irish Congress of Trade Unions organised protests on Saturday, 9th February, and make clear their opposition to the corporate debt imposed on Irish people and the ongoing attacks on the working class being perpetrated by Irish and European governing elites.
Protests have been organised in Dublin, Cork, Galway, Limerick, Waterford and Sligo, to commence at 1.30 p.m. It is vital that workers, students and their families make their voices heard at these events. The clear demand of workers' should be for the repudiation of the illegitimate debt hoisted on Irish society by the banks and their political allies and for a change in economic direction by the Irish Government.
While it would have been preferable for the Irish trade unions to form a united front with workers' organisations in Spain, Portugal, Italy and Greece, the other European states who are on the frontline of the elite attack on working class living standards, the decision by the ICTU to call its members onto the streets is welcomed.
However, the Trade Union Left Forum believes workers must make clear that they oppose not only the neo-liberal agenda of the European Union but also the anti-working class policies of the Irish Government. In this centenary of the 1913 Lockout the protests on Saturday, 9th February, follows the recent Trades Council demonstrations and should be seen as part of the growing resistance in the tradition of James Connolly, Jim Larkin and the militant working class.
For further information on the protests visit www.ictu.ie