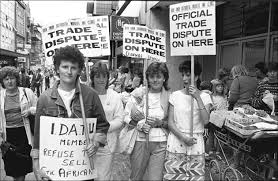 From the Trade Unon Mandate website
Unions to mark 35th anniversary of the Dunnes Stores Anti-Apartheid Strike
Friday 25 October 2019
CELEBRATION TO TAKE PLACE IN LIBERTY HALL ON FRIDAY, 1ST NOVEMBER AND SATURDAY, 2ND NOVEMBER
Mandate Trade Union is to co-host a celebration of the 35th anniversary of Dunnes Stores Anti-Apartheid Strike in Liberty Hall on Friday, 1st and Saturday, 2nd November 2019.
The event "The most dangerous shop workers in the world" is sponsored by the Communications Workers' Union, the Financial Services Union, SIPTU and Unite the Union, and will involve a weekend of theatre, music, spoken word and panel discussions. All proceeds from ticket sales go to MASI – the Movement of Asylum Seekers in Ireland.
In 1984, Mary Manning, a young Dunnes Stores worker, followed a Union directive and refused to handle goods from apartheid South Africa. This lead to one of the most protracted industrial disputes in Irish history lasting two years and nine months.
The determination of the 11 striking workers led to the Irish government's ban on importing produce from South Africa and is credited with contributing to the end of the apartheid regime.
Nelson Mandela who visited the workers in Dublin after his release in 1990 said the actions of the Dublin retail workers helped keep him going through some of his most difficult days in prison:
"Young workers who refused to handle the fruits of apartheid 21 years ago in Dublin provided inspiration to millions of South Africans that ordinary people far away from the crucible of apartheid cared for our freedom," said Mandela in 2008.
The strike was also supported by Nobel prize winners including Archbishop Desmond Tutu and Irish poet Seamus Heaney who joined the workers on the picket line.
Karen Gearon, shop steward during the strike, said:
"Ireland in the 1980s had an undercurrent of racism so it wasn't popular to stand up for the rights of black South Africans who lived thousands of miles away. Unfortunately we are now witnessing another increase in racism so this event is happening at a very appropriate time."

She added, "We were victimised by our employer and ridiculed by our former work colleagues. The Gardai and the special branch would harrass us, while the Catholic Church and many media outlets condemned us for our stance. But we stood our ground and ultimately our action was successful," she said.

"What brought about our victory was our collectivism and our solidarity and if there's one thing we'd hope young workers today can learn from us, it's that if you stand together and remain strong you can achieve anything."
Mandate Trade Union General Secretary John Douglas said:
"The Dunnes Stores anti-aparthied strikers stood on the right side of history. They helped change the world for the better. Their principled stance and their solid determination is something we should all take inspiration from."

He continued, "Mandate delighted to be hosting this celebration because we believe tackling racism is a trade union issue. Workers throughout the world, whether in Great Britain, India, Nigeria or South Africa have far more in common with each other than with the class that oppresses them and our solidarity with each other should not be based on nationality or skin colour."
The Dunnes Stores Anti-Apartheid strikers included Mary Manning, Karen Gearon (shop steward), Cathryn O'Reilly, Theresa Mooney, Vonnie Munroe, Sandra Griffin, Alma Russell, Michelle Gavin, Liz Deasy, Tommy Davis and Brendan Barron. The lead official for the strike was the late Brendan Archbold who coined the phrase "the most dangerous shop workers in the world" following the deportation of the workers from South Africa by armed guard in the 1980s.
EVENT
On Friday 1st November at 6pm the event will be opened by ICTU General Secretary Patricia King, followed by a reading of the play Strike, written by Tracy Ryan. This will be followed by music and spoken word by articsts such as John Francis Flynn, Farah Elle, Natayla O'Flaherty and Yankari.
On Saturday 2nd November there will be four panels:
Back to the future: discussing the political context of 1980s Ireland and South Africa today;
Boycott: The power of the boycott movement throughout history,
Linking struggles: the importance of solidarity between movements and campaigns; and
A conversation with the Dunnes Stores Anti-Apartheid Strikers: hosted by the Echo Chambers podcast.
Some of the artists and speakers include: John Douglas (Mandate Trade Union), Bernadette McAliskey, Lucky Khambule (MASI), Yankari, Farah Elle, Natalya O'Flaherty, Bulelani Mfaco, Tommy McKearney (Hunger Striker), Christabel Gurney (Anti-Apartheid Movement), Betty Purcell, Fatin Al-Tamimi (Ireland-Palestine Solidarity Campaign ), Margaret Ward (Historian), Brendan Ogle (Unite), Kitty Holland (Irish Times), Nicole Lam (MERJ), Gethin Roberts (Lesbians and Gays Support the Miners), Sinead Kennedy (Coalition to Repeal the 8th), Frank Connolly (SIPTU).
All proceeds from ticket sales will go to MASI – the Movement of Asylum Seekers in Ireland.