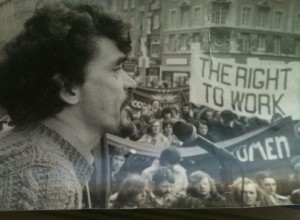 The Trade Union Left Forum wishes to salute and honour the life of Tom Redmond who passed away yesterday.
Tom was a committed and passionate trade unionist, republican and communist. He embodied the living spirit of Marxism in both his activity and in his writings and thinking. He would always challenge himself and others to take on board new experiences and revaluate the old in light of the new.
Active throughout his life in both Ireland and Britain he was an activist in SIPTU, the Communist Party of Ireland and most recently the Trade Union Left Forum, amongst many other groups. The unemployed struggles, housing battles and tax marches all benefited from Toms experience and energy.
For new and younger activists coming through in recent years, despite Tom's age, he was a breath of fresh air. Never patronising, always willing to listen but also to remind younger comrades of lessons he had learned and witnessed. Right up to the end Tom participated in debates about strategy and tactics for unions, parties and the class.
The Trade Union Left Forum sends our deepest sympathies but also our thanks to his four children Simon, Eoin, Niall, Karl and all his extended family.
Tom will live on in the hearts, minds and activities of all workers trying to build a better Ireland and better world. This is the tribute we commit to for Tom Redmond, our comrade and a true working class hero.
Reposing at the Brian McElroy Funeral Home, Crumlin Village, Dublin 12 on Friday, 22nd May, from 7pm to 9pm. Funeral Service on Saturday, May 23, at 12.40pm in Glasnevin Crematorium followed by Cremation. Family flowers only please. Donations, if desired, to Our Lady's Hospice, Harolds Cross.