CWU secures new service providers agreement with eir which will provide new opportunities for organising and winning with workers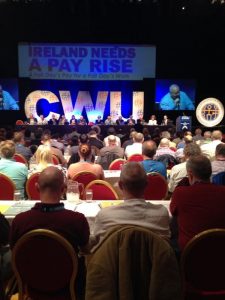 Over the last number of decades outsourcing and the use of third party service providers has become prevalent in the economy with many large companies utilising these practices to save money, increase profit and hand-over control of non-core activities to 'specialist' companies. In response to this workers secured protective legislation known as TUPE which secures, at a basic level, terms and conditions of employment and collective bargaining for trade unions.
However, as these business trends have developed employers have found ways of overcoming TUPE by not quite outsourcing but instead allowing non-core workers wind down before contracting in a service provider or by using third parties where excess work exists instead of hiring more permanent staff. This has meant non-union often lower paid, or on worse conditions, workers are increasingly working alongside permanent unionised staff in large employments.
The Communications Workers Union have sought to address this in former semi-state eir through achieving a service providers agreement which secures collective bargaining with service providers and also makes it a part of future tendering processes.
In a novel move, which all Unions should look to emulate, Terry Delany, Deputy General Secretary CWU stated to the Trade Union Left Forum, 'this agreement is a result of comprehensive negotiations that we had with eir to ensure that contractors and service providers working with eir respect workers' rights and specifically their right to be collectively represented by a union. The reality of the telecoms market now, as with many other markets, is that third party service providers are a fact of life. Our union wants to make sure that this business model is not simply used as a way to erode hard fought for contract standards. This agreement allows us to organise and build worker power in these new companies and that is the best way for these workers to protect and enhance their terms and conditions.'
The agreement outlines a number of principles that service providers must adhere to including:
Good standards in HR practices;
Engaging with the CWU and agreeing the use of the WRC and Labour Court to resolve disputes;
That this also applies to any sub-contractors of service providers; and
And a sharing of relevant information on employee numbers, disciplinary and absence management amongst other items.
This type of agreement doesn't represent a solution to either declining union density or the problems of outsourcing as an attack on workers conditions but it does provide a framework in which the CWU can seek to organise more workers and challenge the down grading effect that outsourcing and the use of third party providers can have on all workers terms and conditions of employment in the private sector but also the knock on effect on the public sector.