Saturday, 4th May at 2.00 p.m. in the Triskel Arts Centre, Cork City.
Using British Pathe film, historical photgraphs and documents an hour long documentary on the life of Cork trade union leader, socialist and republican fighter, Tadhg Barry, will be shown in Cork on 4th May.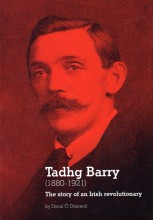 The film covers his life from his birth place on the north side of Cork City, to his early years in the work force and his initial leap into journalism, and from there to his political enlightenment and work with the ITGWU, James Connolly and James Larkin to re-build the union in Cork and to fight for Irish Freedom.
Barry was active in the 1916 Rising and the film covers his transformation from military to political activist when he became an Alderman of the First Republican Council in Cork and Secretary of the ITGWU James Connolly memorial branch.
Jailed on several occasions, the film of Barry's life also incorporates the burning of Cork and his final arrest and transfer without trial to Ballykinlar internment camp in county Down where he started the first ever Trades Council in a prison environment.
He was shot through the heart while waving good bye to fellow prisons sent out on release just three weeks before a general amnesty in 1921.
Footage in the film shows how Michael Collins left the 'Treaty' talks to attend his funeral.
Among the contributors to the to the film are SIPTU General Secretary, Joe O'Flynn, Tadhg Barry Galvin, great grandnephew of the late Tadhg Barry, Brenda Corcoran and other family members, Gerry White, Quarter Master and Historian with the Southern Command in Collins Barracks Cork and his biographer Dr. Donal O'Driscoill, the School of History, UCC.
The film is a joint production between the Cork Council of Trade Unions and Framework Films produced by SIPTU organiser, Trevor Quinn, Eddie Noonan and Emma Bowell.