5:30pm at Liberty Hall on Wednesday 15th of April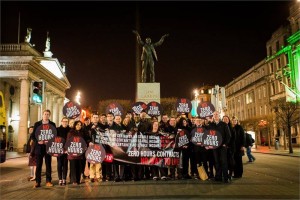 'Fight for 15' has become the rallying cry of fast food workers across the United States. The movement began with 200 workers walking off their jobs in New York City in November 2012, in protest at employers who make billions of dollars in profits while paying poverty wages.
Over the last two years the protests have spread. The last major day of action on 4th December, 2014, saw thousands of fast food workers in some 190 US cities walk off their jobs, seeking the same demand they have been making for the past two years – $15 an hour in pay. On that day solidarity actions and protests were also witnessed from Japan to Brazil, while in Ireland 3 protests organised by the Young Workers Network (in Dublin, Cork and Belfast)  marked the global protest with lively actions outside of McDonalds.
Social media has been central to organising the campaign and on 4th December the #fastfoodglobal hashtag trended in nearly 20 US cities from New York to Phoenix, and around the world it trended in 50 cities from London to Lagos.
Activists in the 'Fight for 15' campaign made a three day visit to Dublin in early March to discuss the struggle in the US and Ireland against low pay and zero hour contracts.
The workers spoke at a public meeting in Wynn's Hotel, Dublin, organised by the Young Workers Network (YWN). The meeting was followed by a protest at the Jim Larkin Statue on Dublin's O' Connell Street.
The YWN will be holding another protest outside McDonalds on O' Connell Street, Dublin, against low pay and zero hour contracts on 15th April as part of an international day of action against low pay and are encouraging supporters to meet them at Liberty Hall at 5:30pm on the day for this event.
At the event, the YWN will launch the result of their Working Hours and Pay Survey which found that 89.13% of young workers under 35 regularly find it difficult to make ends meet.
For updates on the event, please visit: