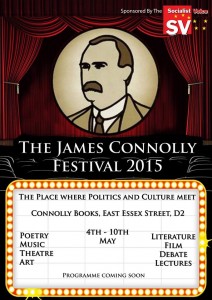 In May of this year the Socialist Voice, in association with The New Theatre, will host its very first week long political/cultural festival in the heart of Dublin City. This festival is an extension of the 'James Connolly Memorial Weekend', where esteemed national and international guest speakers such as James Petras have given the James Connolly Memorial lecture. This is followed by a wreath laying ceremony at Arbour Hill on the Sunday, to mark the occasion of Connolly's execution and to pay tribute to him and to the other leaders of the 1916 rising.
In May 2015 the Socialist Voice and The New Theatre will launch the first annual 'James Connolly Festival' which will host a broad list of cultural and political acts and events – with music, theatre, poetry, films, art, debates and lectures intended for a new risen people. Acts confirmed so far include: Sister Teresa Forcades (Euorpe's most radical nun/political activist), Attila the Stockbroker (political poet/musician/activist), Mark Geary (singer/songwriter), Fiach Moriarty (singer/songwriter), Stephen Murphy (poet), Donal O'Kelly (actor/director), Evelyn Campbell (singer), Ronan Wilmot (actor/director), Andrew Kerns (singer), Micheline Sheehy-Skeffington (Academic) and many more.
The Festival held a fundraiser night, which was dedicated to the Dunnes Stores workers who went out on strike this month. The play Counter Culture was written and performed by Katie O'Kelly and Theo Dorgan read extracts from Pablo Neruda and from his own work, which were  mesmerising. A video of the night can be found on the facebook page and website.
The aim of the festival is to promote progressive culture and politics and to facilitate debate around current and contemporary politics. James Connolly remains Ireland's foremost Marxist and working class hero. He of course was one of the founders of the Irish trade union movement, so one of the main goals of the festival will be to highlight the ideas of Connolly and the importance of trade unions for workers, especially amongst the youth. The festival is aimed at those who seek alternatives, who are engaged in today's struggles against the many powers that dominate our lives, but also to celebrate the very rich working class culture that exists in Ireland.
For full details see the festival programme in this months Socialist Voice or online at jamesconnollyfestival.com. One of the central political events will be this year's James Connolly Memorial Lecture, on Saturday 9 May at 2pm in the New Theatre, East Essex Street, to be given by the radical Catalan nun and activist SisterTeresa Forcades. The lecture will be followed by the formal launch of the CPI's "Democratic Programme for the 21st Century." On Sunday 10 May the CPI's annual Connolly Commemoration will take place in Arbour Hill Cemetery, with an oration by the CPI and the Connolly Youth Movement, together with this year's guest speaker, Clare Daly TD. This event starts at 3pm and all are welcome.
Website: jamesconnollyfestival.com
Facebook: https://www.facebook.com/jamesconnollyfestival2015?ref=hl
Twitter: @ConnollyFest and to create a trend #CONNOLLYFEST