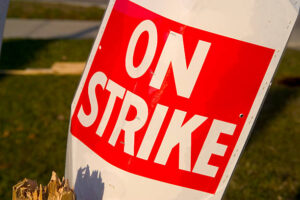 Solidarity with the Debenhams workers
The arrest without a court injunction of the Debenhams workers for the occupation of stores brings the crisis in workers rights to a new level. This marks a massive change of direction by the state where workers are now arrested for defending their rights even before an employer goes to court.
This demonstrates which side the government is on. This is the state attacking its own citizens. The trade union movement must challenge this.
Support strikes are banned under the 1990 industrial relations act, it is unlikely any Union will be willing or able to officially call for short term supportive action even for a couple of hours or a solidarity march as it would put the organisation at risk of sequestration of all their unions assets . Under the act two weeks notice would be required, supportive action is banned under the act, so the 1990 IRA has the unions and the workers caught in a double whammy.
To divert attention and to appear to support the workers the Taoiseach has called for a review of company law, the Duffy Cahill report must be brought in, but this would be useless without a review of labour law specifically the 1990 industrial relations act.
The Irish Congress of trade union must step up to the mark and call for this review and for all trade unionists to support these workers.
Mandate Trade Union , Connect Trade Union , Unite Hospitality ROI & the civil service section of Fórsa trade union who all have a policy to abolish the 1990 Industrial Relations Act must now publically call for it to be abolished. These four unions must meet and agree a formal strategy, to build a cross union campaign to have the 1990 IR. act abolished.
Unions must become radical or they will become redundant.
Up the Workers.