Over 150,000 strike on historic day for our union – region by region
August 31 2022
Members in Royal Mail, BT, Openreach and Parcelforce walk out right across the country in the CWU's biggest ever action…
Delivery, processing, network and engineering services, distribution, vehicle repair, plant maintenance and admin at two of the UK's largest companies were hugely impacted in every corner of the country today as pickets were deployed from the early hours of the morning until late in the evening. Strikers were in good humour and high spirits, as well as disciplined and determined, united in standing up and standing together in the fight for a fair deal on pay.
Our general secretary Dave Ward staunchly defended our members, praising them for their public service, insisting that the strike action was absolutely necessary and had been effectively forced on the union by stubborn and arrogant leaderships in both Royal Mail Group and BT Group and vowed that the CWU would continue the fight and would prevail.
"Today was an historic day for the CWU – the first time we've ever taken simultaneous strike action virtually right across our membership. And our members have responded magnificently in every city, town and village of the UK.
"Now the ball is in the employers' court. They need to respond positively and make real efforts to settle these disputes. We have further action planned for next week in Royal Mail and our industrial executive on the telecoms & financial services side of the union will be meeting to discuss their next steps with BT Group.
"If the employers continue in their stubborn stance, the only outcome will be further action in both companies and let them be in no doubt as to the determination and unity of purpose of this union and our members.
"Once again to our members a massive thank you, huge admiration and respect – you deserve better and we will keep up the fight."
CWU deputy general secretary postal Terry Pullinger said that it was "the honour of my life to represent these people today," and our deputy general secretary telecoms & financial service Andy Kerr insisted: "Our members want a pay rise and want it now" on the day that workers across these two companies took strike action on the same day for the first time ever.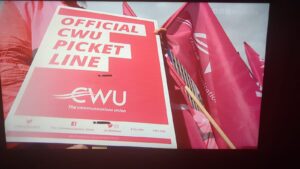 Six Counties
Both Andy and Terry addressed a lively rally outside Belfast's City Hall, Terry saying that the key worker heroes were now being "treated like zeroes by their employers," and reminding the audience of how Royal Mail workers had turned around the company's fortunes over recent years through their hard work and adaptability to change, but were now being told that the company could not afford a fair pay rise – although, he pointed out: "Over £700 million since July 2021 has been given to shareholders and senior managers have given themselves massive pay rises.
"They've had their heads in the trough," he said and went onto criticise the business for "walking away from" the Pathway to Change agreement that was "just over a year old" and described the current dispute as being "about honour and integrity against people who've got none."
In his speech to the rally, Andy Kerr made similar criticisms of the BT Group leadership and refuted senior management claims of not being able to afford a fair pay deal.
"This company cannot tell me they can't afford a pay rise," he insisted, adding: "This company made £1.3 billion profit last year. But they're 'skint'? This company can afford to give £761m to their shareholders. But they're 'skint'?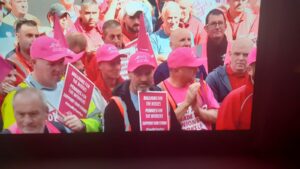 Andy talked of how he had been involved in the action the last time that BT workers went on strike back in 1987 and challenged the company's bosses to a public debate on the question of affordability. "If they want that debate, then bring it on," he said and suggested: "If they gave just 10 per cent of that £761m dividend to the workers, this dispute would be over tomorrow morning."
Speaking to CWU News afterwards, Northern Ireland CWU secretary Erin Massey said: "It was fantastic to get Andy and Terry here to Belfast today and there were hundreds who turned up – mostly our members, but also other workers and the general public. We reckon there were around 300 or so and there were other speakers too, from NIPSA, Unite and the Belfast Trade Union Council. There was so much support and solidarity."
The strike call had been strongly supported everywhere, Erin continued, explaining that she had visited the mail centre in the morning and had also received positive reports from picket lines all over Northern Ireland.
"It's been a great day today and our members have responded superbly – and the weather's stayed nice as well."