Campaigns
The Workers' Rights Campaign is a nationwide effort to repeal anti-trade union in Ireland (the 1990 Industrial Relations Act in the twenty-six counties and the equivalent legislation in the six counties). We demand that these pieces of vicious anti-worker legislation be replaced by a Fair Employment Act which guarantees the right of access to workplaces by trade union organisers, the right of workers to have a trade union of their choice represent them in disputes with their employer, full collective bargaining rights and no limitations on the right of workers to withdraw their labour-power.
TULF Press Release on the Workers' Rights Campaign: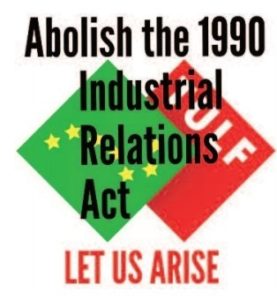 Workers' Rights Campaign Leaflet:
gallery
.
Please contact the TULF if you wish to get involved in the campaign. There are many practical steps that activists may take to support the Workers' Rights Campaign: