The Financial Services Union (FSU) have launched a campaign to restore the 35-hour working week in AIB. The Union state that during the years of austerity the working week in AIB was extended from 35 hours to 37 hours.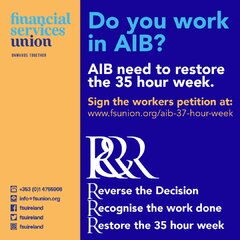 Speaking at the Triennial Conference of the FSU, Billy Barrett, Senior Industrial Relations Officer with responsibility for members in AIB commented:
"In a judgment a couple of years ago the Labour Court stated that "employees who cooperated with adjustments to pay and conditions of employment during the crisis are entitled to have those progressively reversed as circumstances improve
"AIB has reported profits of €274 million in the first half of 2021 and its CEO, Colin Hunt is on the record as stating that the economic outlook for the Bank is positive.
It is time that staff share in the upturn in the Banks fortunes.
It is also a case of fairness and equality in the workplace. At present if you work in Bank of Ireland, you work a 35-hour week. Any staff member who will transfer in the future from Ulster Bank to AIB will remain on their current 35-hour week contract.
This means that staff will be working side by side with some on a 35-hour week and some on a 37-hour week.
The FSU surveyed our members on this issue and the support for the campaign was clear and unambiguous.
As a first phase of the campaign, we have launched a petition of our members seeking their support.
It is time for AIB to reverse the decision to increase the working week from 35 hours to 37 hours, recognise the work done by members in returning the Bank to profitability and restore the 35-hour week as is common in other Banks."